PROVISION NO. 4.0
You cannot erect a building without obtaining the permission of the Chief Executive Officer (CEO) of the Noida Authority (Authority).
PROVISION NO. 5.0- HOW TO APPLY FOR A BUILDING PERMIT?
Make an application in Form 1 given below.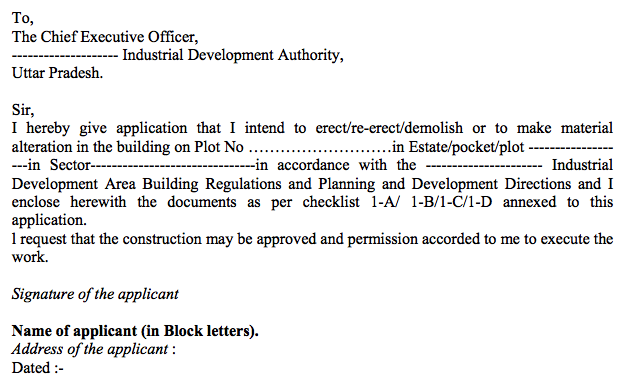 Submit the documents enlisted in Appendix 1. These documents vary depending on the type of property (for instance, residential or sub-division of a plot) for which you are applying for a building permit.
Pay the fees mentioned in Provision No. 10.
If the Authority objects to your application, the fees you paid will not be refunded; however, you will be allowed to submit your application again after fulfilling the objection criteria within 60 days of receiving the objection, without paying any additional fees.
Constructions/alterations for which you need not apply for a building permit-
Whitewashing and painting;
Plastering, patch work, flooring.
Renewal of roof at the same height;
Reconstruction of portions of building damaged by any natural calamity to the same extent as previously approved;
Internal additions/alterations within the building which have been certified and supervised by a Licensed Technical Person registered;
Digging or filling of earth
Even though you are not required to apply for a building permit to make these additions or alterations, you must intimate the Noida Authority in writing before undertaking them.